Virtual Learning And Its Impact On The Education System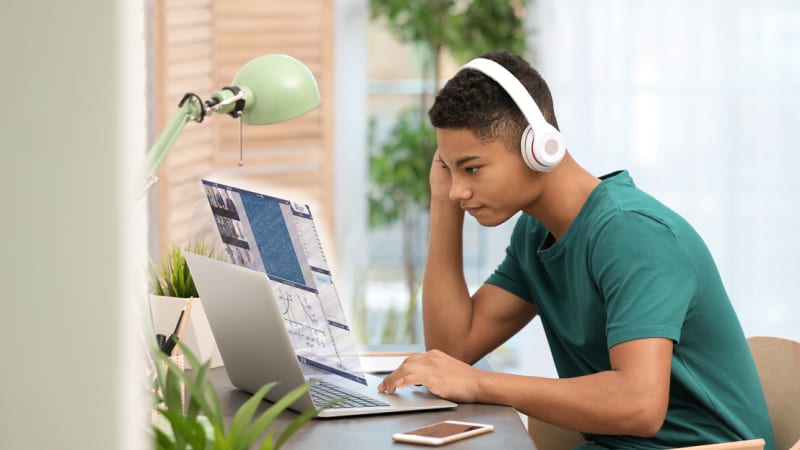 The digital world has seen exponential growth in recent times. The education system is still in the process of this change. There is a sudden rise in virtual teaching mainly because of its benefits to students and educators, which we will be discussing in this article.
The Rise of Digital Schooling
Technology to enhance the learning experience
The Internet is now available in most parts of the world, and with the Internet, there is also widespread use of smart devices like smartphones, laptops, computers, and much more. These easily accessible internet devices enable students to learn anything from anywhere.
Students can now go beyond the confines of textbooks, letting their minds grow beautifully without any restrictions; they can learn anything and everything, from data science to finance. Another positive impact of technology on the education system is the new engaging way of learning; students now learn in an interactive environment to explore different subject aspects.
Advantages of Digital Schooling
Expanded Access to Education
A Digital school breaks down geographical barriers, making education accessible to students regardless of location. Online learning platforms and virtual classrooms enable students to connect with teachers and peers globally, fostering a diverse and inclusive learning environment. Students in remote areas or those with physical limitations now have equal opportunities to access quality education.
Enhanced Collaboration and Communication
Digital tools facilitate seamless communication and collaboration among students and educators. Virtual classrooms, discussion boards, and video conferencing enable real-time interaction, encouraging active participation and peer-to-peer learning. Students can engage in meaningful discussions, promoting critical thinking and teamwork skills.
Engaging and Interactive Learning Experiences
Traditional classrooms often need help to keep students engaged. Digital schooling revolutionizes education by offering interactive learning experiences. Gamified learning platforms, virtual reality (VR), and augmented reality (AR) applications provide immersive educational experiences that capture students' attention and foster deeper understanding. Interactive simulations and virtual experiments allow students to explore complex concepts.
Impact on Educators
Transforming Teaching Practices
Digital schooling not only has a positive impact on students but also educators as they also adapt new teaching methods which involve technology. As they are not sole information providers, they can easily guide students through digital resources, making the learning process effective. With time educators are learning the online attendance management system as well, which is a new way to track students' progress and provide necessary interventions.
Professional Development and Collaboration
Through virtual meetings, teachers can collaborate with other educators and grow professionally. Online platforms provide educational resources, webinars, and other conferences that help teachers connect with their peers and explore innovative teaching strategies.
The education system has been revolutionized with the introduction of digital schools; this unique opportunity benefits students and our educators as they get flexible platforms to showcase their knowledge creatively. Technology has undoubtedly given us many wonderful opportunities, and it won't be wrong to say a virtual classroom is one of the best inventions so far. Through this article, you must have understood the many benefits of virtual classrooms. Happy Learning!